Swedish Vallhund
What are they?
The Swedish Vallhund is a small, sturdily-built, Spitz-type dog, with a wedge shaped head, prick ears, and close-fitting, hard coat of short-to-medium length.
The Swedish breed standard says that in type, the Vallhund is a wolf-like animal in everything except size. Their short legs, intelligence and energy make them suitable as a herding dog. Those same characteristics make them successful in obedience, agility, tracking, and any other activity in which they are free to take an active part. They require plenty of exercise and mental stimulation.
SV's can be shown in performance events and conformation through UKC, CKC, IABCA, ARBA, and finally the AKC Herding Group at the end of June 2007!
My experience with the breed
I have found SV's to be delightful dogs. Happy, loving, and eager to please. They are both intelligent and intuitive and do well with children and other animals. As great as SV's are, they are not for everyone. Because of their intelligence, they need plenty of stimulation so they do not get bored. Mine love to chase a basketball around the yard, as well as fetch frisbees, tennis balls, sticks, and they especially love to herd my sheep. They thrive on companionship, so would not do well in a home where they would be left alone for long periods of time. Some SV's can be vocal and are not shy about letting you know what they think or want. These things might turn some people away from the breed, but those are some of the characteristics that have drawn me to them.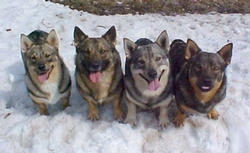 Goals and future plans
I am a member of the
SVCA
and an AKC Breeder Of Merit. My goal in breeding the Swedish Vallhund is to preserve both appearance and working ability by breeding as close to the breed standard as possible, as well as taking health and temperament into consideration. Dogs used for breeding will have hips and eyes screened. Only dogs that are sound in both health and temperament will be bred.
Click on the pictures below for more information about each dog.

CH Bodatorp Nikita winning Best Brood Bitch with CH Minikota's Trumped Up Charges and CH Minikota's Johannes Kepler



AKC & UKC GR CH Lovsjokarrs Filip ROM CGC
Flip (Skogsbygdens Valerius Spexare x Lovsjokarrs Amanda) is a grey sable Swedish Vallhund, bred by Anita Larsson and imported from Sweden. Flip earned his UKC Grand Champion title in September 2006 with 2 BOB's and a Group 3. He has placed in the UKC Top Ten in 2004, 2005, and placed Second in 2006.
By August 2007, Flip has earned 9 points towards his AKC champion title, consisting of a 5 pt. major and a 4 pt. major. Flip finished his AKC CH title in December 2008 at the Granite City KC in St. Cloud, MN.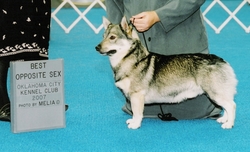 AKC & UKC & IABCA CH Bodatorp Nikita ROM CGC
Nikita (SUCH Skogsbygdens Wilmer-X-Arneson x Bodatorp Katarina) is a red sable Swedish Vallhund, bred by Ann-Maria Johansson, imported from Sweden. Talk about attitude! Nikita is awesome! She earned two more UKC Champion wins in September 2006 with 2 BOB's, a Group 2, and a Group 3. She needs one more win to earn her Grand Champion title. Nikita has placed in the UKC Top Ten in 2004, 2005, and placed Third in 2006.
Nikita finished her AKC CH title with 5 majors. She earned three, 3 point majors, as well as a Group 4 in Duluth, MN in July. She then earned two, 4 point majors (by going BOW) in Des Moines, IA in September.
Nikita won the Brood Bitch class at the SVCA National Specialty in Topeka, KS on Aug. 13, 2009.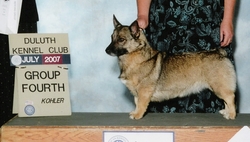 AKC & CAN & UKC CH Larska's Halldora ROM
Chloe (CAN CH Margelbackens Bothvar x CAN CH Vastgota Linus Ida) is a grey sable Swedish Vallhund, bred by Karen Moncrief, from Canada. Chloe is a little spitfire and has done well in the show ring. She earned her UKC Champion title in one weekend at 8 months of age and earned her Canadian Champion title in 2 weekends by 10 months of age (winning 9 Best of Breed, five Best Puppy in Group, a Best Puppy in Show, two Group 3's and two Group 4's). Chloe placed Fourth in the UKC Top Ten in 2006 and she placed Second for top Swedish Vallhund in Canada in 2006.
Chloe won WB & BOW for a 5 point major, then went on to win BOB in Tulsa, OK at the SVCA supported entry on Nov. 1, 2008, under Swedish breeder/judge, Anita Whitmarsh.
She then finished her AKC Championship with four, 3 point majors in Indianapolis, IN on Feb.12th-15th, 2009, as well as BOS all 4 days.
Chloe won Best Of Breed at the Westminster Kennel Club on Feb. 15, 2010.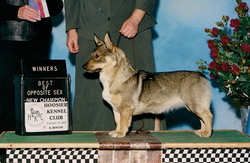 UKC CH Pavon Bobaloo ROM CGC
Boba (UKC GR CH Bodatorp Jumping Jack Flash x UKC CH Genesis Bad Bad Britta) is a red sable Swedish Vallhund, bred by Yvonne Slusser. At just over 3 months of age, Boba was shown in his first dog show through IABCA and received Reserve BIS Rare Breed Puppy. At 6 1/2 months of age, he earned 2 majors at his first UKC shows. Boba finished his UKC Championship in April 2006.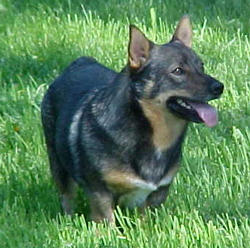 GCH CH Aswallens Lukas Lupin

Lukas (Sanningegardens Inti x Aswallens Haftiga Hedda) is a grey sable Swedish Vallhund bred by Kerstin Wallin and imported from Sweden. He was born to show. He finished his CH title in December 2012 at under 1 year of age. He also won a BOB over a Special and won a Group 4 placement at that time. He won another Group 4 placement in June 2014. And went on to finish his Grand Champion title in July 2014 at the SVCA supported entry in Waukesha, WI with 4 BOB wins. He has a wonderful temperament and loves to visit the residents at a nursing home.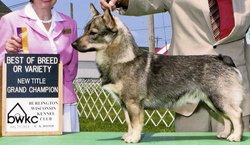 CH Mizacks Dicte Rosewood
DeDe (Svedala Orvar Orkan x Bodatorp Madicken) is a red sable Swedish Vallhund bred by Maarit Sallanto and imported from Sweden. She is the new kid on the block. She earned three, 3 point majors by the time she was 1 year old, and finished her Championship in December 2014, before she was 2 years old. She is a sweet and confident girl who keeps us on our toes.